Software transforming overhead infrastructure monitoring in the AI era
Seamlessly integrate software into UAS operations to automatically detect problematic changes that threaten community safety and service consistency, with greater accuracy and confidence, requiring less resources than existing practices.
---
Challenge
There are myriad limitations and performance constraints associated with existing overhead inspection approaches that make it difficult to achieve the accuracy, capacity, and frequency needed to scale cost effective monitoring.
These limitations result in less than 10% of grid infrastructure evaluated annually, leading to expensive missed detection often
unmitigated wildfire risk with incalculable overall liability
decreased reliability,
low situational awareness and
increased operation and maintenance costs
The Current State

Current methods to evaluate the condition of the grid are manual, labor-intensive and costly
In spite of attempts at automation detection models encounter challenges requiring significant training and substantial comprehensive visual inspection is still necessary limiting the value and objectives of automated analytics
---
Solution
We help Utilities reduce costs of deploying and maintaining a monitoring system at scale
Advanced drone monitoring inspection and automated analytics for electric asset and structure health and integrity
Our end-to-end solution helps electric utilities evaluate the condition of the distribution grid at-scale solving the limitations of existing inspections approaches to
Automate and achieve efficient and systematic review of data collected by routine inspections.
Deploy a more effective change detection model enabling accurate frequent and cost-effective solutions that cover the entire system and reduce crew-hours in the field.
Improve accuracy of asset degradation assessments and data for predictive analytics.
Gain ongoing visibility into a wide range of local conditions.
Reduce patrol times significantly expediting power restoration
---
N-SUITE Software Bundle
N-SUITE exploits RSI technology to overcome a series of overhead inspection limitations
These breakthrough outcomes are achieved by addressing unmet asset inspection challenges to enable significant improvement in quality, frequency and repeatability of
drone image acquisition and downstream curation, that fuels
a novel anomaly detection model delivering superior performance and supporting predictive analytics.
Collectively N-PLANNER and N-SPECT software packages help transform the asset monitoring and change detection landscape that's not been possible using today's inspection approaches.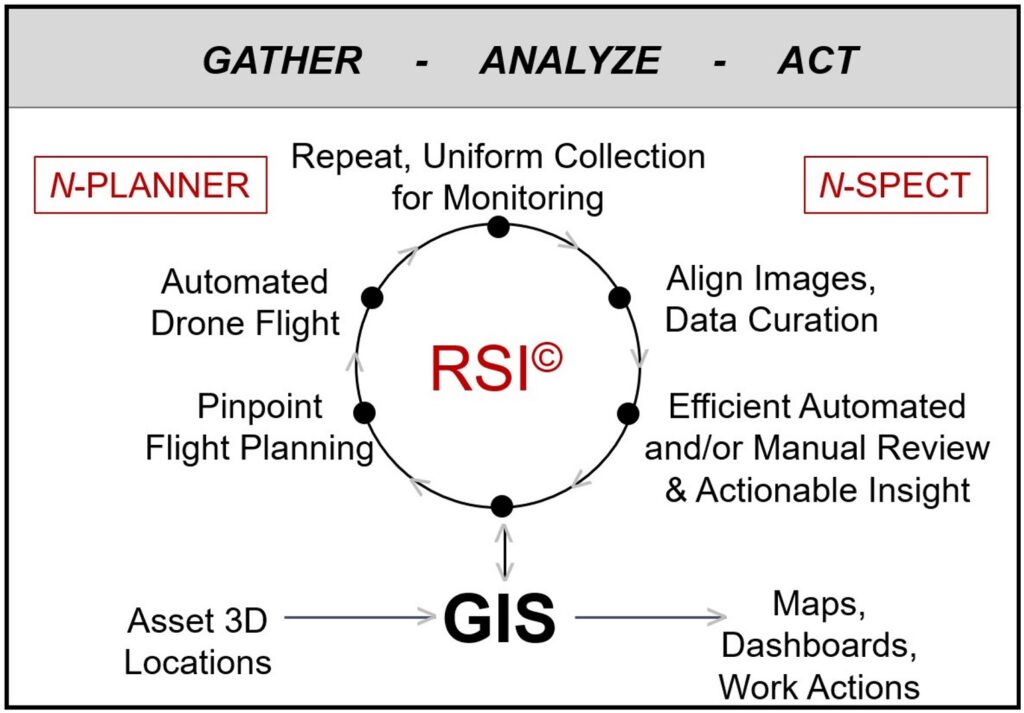 N-PLANNER
N-PLANNER enables automated image collection with unprecedented precision and efficiency with minimal data volume and the exact spatial resolution specified. Using high-accuracy GPS with RSI, automated flights are precisely repeated at temporal intervals and at high velocity for ad-hoc events significantly improving efficiency compared to manually flying each asset.
N-SPECT
The powerful damage detection capability of N-SPECT is based upon
anomaly detection between imaging passes. N-SPECT anomaly detection
does not require large training datasets, and also
can detect anomalies that have not been trained on.
All that is needed is a previous time image, a current image, and the AI anomaly detection algorithm.
Our architecture also supports pre-trained models that may be used to identify the type of damage detected.
---
What's the difference in RSI automated analytics versus others? The outcomes, but there's a reason

Traditional AI computer vision anomaly-detection is based on single image convolutional neural network models that require thousands of training images to detect each damage type and often for different types of apparatus and materials. This results in significant untrained defect variations, an inability to pick up on subtle changes in manifestations and incomplete detection. Detection accuracy for trained anomalous defects is typically around 75-90%, but 0 for all other changes, providing limited overall confidence and detracting from objectives of automated analytics.
Our novel N-SPECT model is designed to detect all types of defects as anomalous changes. Through temporal comparison, our model requires minimal training on anomalies of interest and ignores false changes, enabling high confidence in detection accuracy of greater than 98%. Building on robust, generic pre-trained deep learning models, refining the RSI model only requires between 10 and 30 image pairs in total for all types of changes. RSI novel detection models are fast to deploy and set a new standard in overhead monitoring
---
RSI difference – end-to-end performance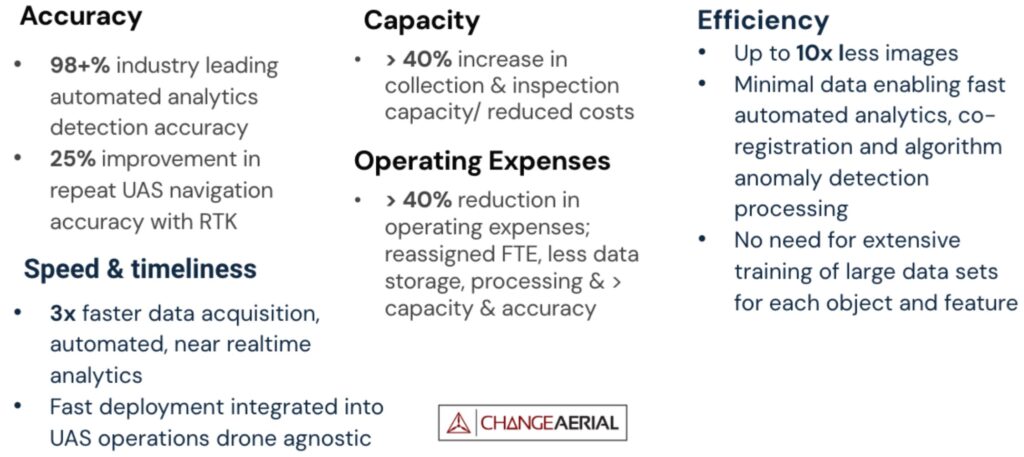 ChangeAerials software disrupts conventional asset inspection approaches and reframes a segment of the market compressing an inefficient value chain, to extract new cost and quality value streams through measurably improved accuracy, speed, efficiency, and capacity performance.
---
Bridging the gaps for a new dimension in overhead monitoring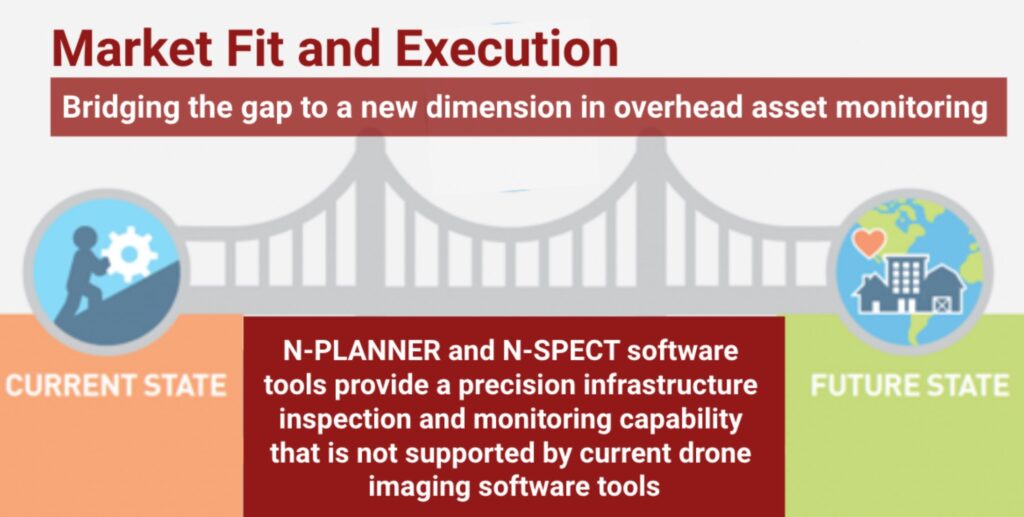 ChangeAerial tools exploit IP that bridges the gap from limitations of existing approaches to a future state. N-PLANNER and N-SPECT software tools provide a precision infrastructure inspection and monitoring capability that is not possible using current drone imaging software tools.
CLICK "GET A DEMO" BELOW TO BE CONTACTED, LEARN MORE, AND GET A DEMO!
---
Contact
Please email [email protected] to discuss how we can help you to monitor the features that are important to you
---